Success stories
Every day, English At Large volunteers help adults change their lives. Together, our volunteers invest more than 10,000 hours of personal time annually to help others improve their English language skills.
The impact is clear. With their new skills, our learners engage more with their families, achieve greater success at work, and contribute more to the communities around them.
2011 & 2012 learners reported the following achievements
36% found a job or made progress in their current job
30% increased civic & community involvement, including attaining citizenship and voting
26% increased involvement in their children's education
Read below for individual stories of some English At Large learners and volunteers.
Conversation is the key
When Qingya Fan arrived here from Guangzhou in February 2009, she never imagined that she would be able to practice her nursing profession in the U.S. Like many other professionals from China, she had learned how to read and write English, but had little practice in speaking or listening. She had been a nurse in China for twelve years, but here she had an H4 visa, which did not allow her to work. Read more…
Citizenship
Jianping Jimmy Wu wanted to be a United States citizen more than anything. He was born in Shanghai, China, in 1931. He first came to the United States to visit his children when he was 62 years old and after retirement moved here permanently in 2000. When he arrived, his limited English skills prevented him from connecting with English speakers around him. But he remained determined to join his children and grandchildren as a citizen and part of the community. Read more…
Working together to achieve one goal
English learner Nataly Kirik gives her volunteer English tutor credit for helping her land a job as an assistant teacher. "While trying to find a job in a preschool, my tutor encouraged me in different ways," shared Nataly. Read more…
Gaining the confidence to succeed
In a home in Winchester, a child turns on the water and watches as the tub overflows. He screams for his nanny, Grazziela Amaral. She comes running into the bathroom, befuddled at the puddle of water that surrounds her. Grazziela, a Brazilian newcomer, grabs the phone and frantically dials the telephone number of the man of the house. First, she hears, hello, and then other foreign words. She is frustrated. She feels powerless. Read more…
Giving the gift of confidence
Every Friday morning, in a local restaurant in the heart of Woburn Center, Selma Adler and Amina Mohamed sit down, drink coffee and begin their weekly English lesson. Sitting near a window on a beautiful autumn morning, Selma reaches for a cookie, baked by Amina, and asks her learner, "Did you remember to talk to the landlord about the oil for the heat?" Read more…
Using English to advocate for her son's education
Imagine that your son is living with autism, a serious neurological disorder requiring focused learning techniques that can be unique to each child. Now, imagine that you cannot advocate for his educational rights because you lack the English language skills to communicate his learning needs to his teachers. Shiei Kuida, a Japan native who has been living in the United State since 1993, did not imagine this story. She lived it. Read more…
Motivated, successful, and giving back
Violeta Jeliazkova arrived to in the United States knowing only 200 words in English. She now runs her own graphic design business, speaks confidently with her clients and sits on our board advocating for other English learners. Read more…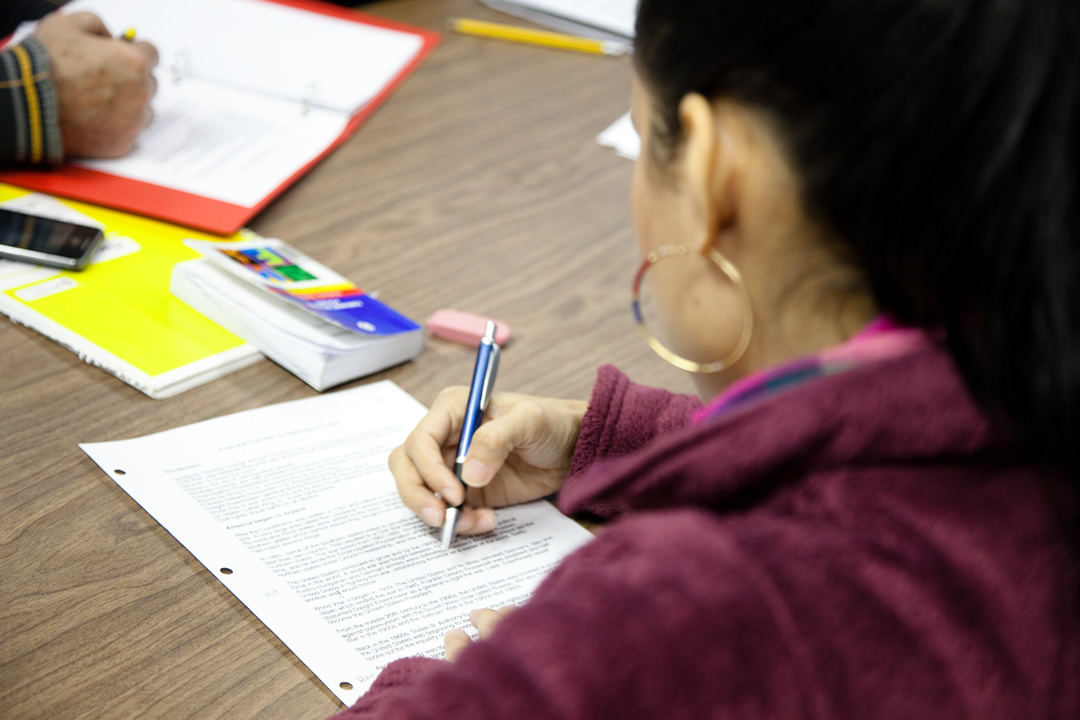 800 West Cummings Park, Suite 5550
Woburn, MA 01801
tel : 781.395.2374
email : info@englishatlarge.org
Subscribe to our newsletter